In PASOE it is sometimes necessary to turn on enhanced logging to find out what is going wrong in an application.
I was having trouble making "dynamic" changes to the PASOE logging mechanism. I was referred by Irfan to a property, allowRuntimeUpdates that can be set to "1" in openedge.properties (image):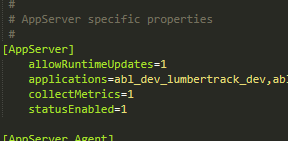 Has anyone else had a chance to try this in the context of PASOE? Supposedly if it is set to "1" then you can make changes to your logging preferences on the fly (change logging from "1" to "4" and back again).
I don't find any documentation that describes the purpose of "allowRuntimeUpdates" for PASOE. Because of the generic way that property is named, it could do just about anything. But I have heard rumor that it will monitor specifically for properties such as the logging level and will make changes go into effect.
In fact, I have been able to confirm that when I change logging levels, the agent log will at least notify me as follows:
[19/01/23@11:50:12.501-0500] P-021572 T-025152 1 AS-Admin -- Logging level set to = 4
[19/01/23@11:50:12.501-0500] P-021572 T-025152 1 AS-Admin MSAS csMtDynamicPropertiesUpdate("agentLoggingLevel" : "4") OK


... however, the behavior of the change within the actual agent processes and sessions is not consistent. Sometimes my logging level change goes into effect and sometimes it does not. I often find myself stopping agent processes via OEE before the change will go into effect.
That isn't the end of the world. This is certainly a better feature than having to stop the entire PASOE instance as I had to do in the past. But it would be nice to know what is the intended behavior of this property, allowRuntimeUpdates, and whether it requires ABL application agents to be manually stopped (as I'm currently doing today).